Balloon Artist
for Festivals,
Major Events
& more…
Balloon Artist Markus Kaufmann for Company Events
I'm Markus Kaufmann, the balloon artist you've been waiting for.
Get ready to experience the captivating world of balloon artistry at your next company event. From enchanting balloon animals to stylish balloon hats, I bring a unique blend of creativity and professionalism to every occasion.
Watch as my dynamic balloon modeling captivates and engages your corporate audience, leaving them in awe. Let's create an unforgettable event together.
Book me, Markus Kaufmann, the balloon artist of your dreams!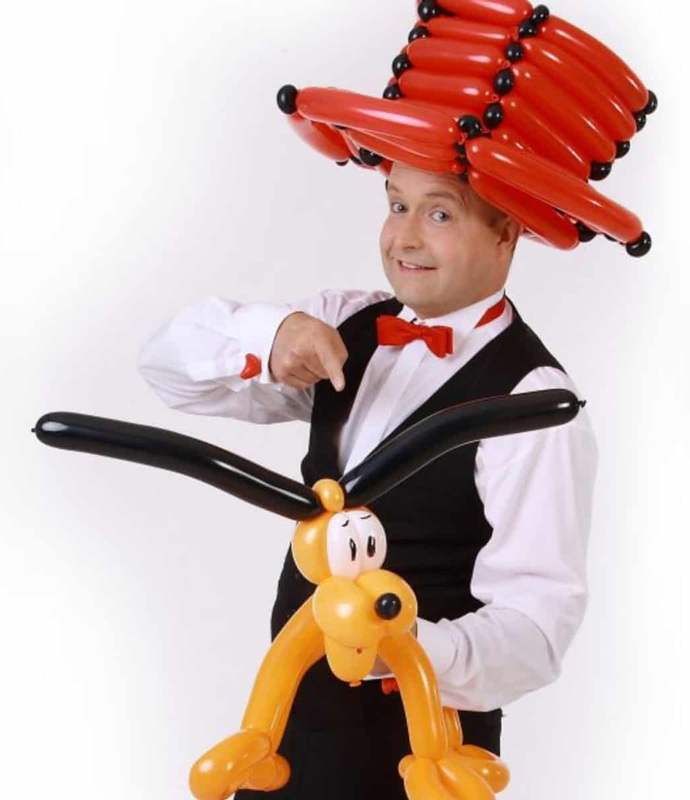 Key Takeaways
Markus Kaufmann offers a unique and creative approach to balloon artistry at company events.
His balloon creations are vibrant, visually stunning, and can be customized to match event themes or branding.
Balloon artistry enhances the overall atmosphere of corporate settings and leaves a lasting impression on both children and adults.
Markus Kaufmann's interactive and imaginative performances engage the audience and create a fun and memorable experience.


From Balloon Animals to Balloon Hats: The Engaging, Flexible and Creative World of Artist Markus Kaufmann at Major Events.

When it comes to showcasing my talent for balloon artistry at major events, I bring an engaging, flexible, and creative approach to life. I transform simple balloons into intricate designs, ranging from balloon animals to balloon hats. My goal is to create an interactive engagement with the audience, whether it be at corporate gatherings or balloon exhibitions. The custom balloon creations I make not only add to the event ambiance but also provide a unique form of entertainment. From balloon sculptures to artistic collaborations, I strive to bring my artistic recognition to each event I attend. Additionally, I offer team-building with Markus sessions, where participants can learn the art of balloon twisting and create their own masterpieces. With my talent and expertise, I aim to elevate the experience of any event I'm a part of.

The Visual Spectacle and Magnetism of Balloon Artistry in Corporate Settings

Continuing the captivating journey into the world of balloon artistry at major events, I bring a visual spectacle and magnetism to corporate settings. As a balloon artist, I utilize my artistic expertise to create stunning and intricate balloon sculptures that engage and entertain audiences in company events. Here's what sets my balloon artistry apart in corporate settings:

Visual Spectacle: My creations are vibrant, colorful, and visually stunning, adding a touch of magic to any event.- Audience Engagement: I interact with attendees, involving them in the process and allowing them to witness the transformation of simple balloons into impressive creations.- Entertainment Value: My balloon artistry brings joy and wonder to both children and adults, transcending age barriers and creating a sense of awe among the audience.- Artistic Innovation: I customize my creations to match the theme or branding of the event, showcasing artistic innovation and making each experience unique and memorable. Incorporating balloon artistry into corporate settings enhances the overall atmosphere, leaving a lasting impression on attendees and creating a sense of belonging.


Markus Kaufmann's TrailblazinMarkus Kaufmann: Where Entertaining Meets Professionalism in Balloon Artistry, Lighting Up Company Events Worldwide.

Markus Kaufmann trailblazes the world of balloon artistry, bringing entertainment and professionalism together to illuminate company events worldwide. With his exceptional skills in balloon twisting and shaping, Markus adds a touch of magic to various corporate occasions. He's a popular choice for annual meetings, business symposiums, and board meetings, where his balloon designs serve as delightful diversions. Markus also lends his artistic expertise to seminar sessions, creating a vibrant and engaging atmosphere. His talent is often enlisted for employee milestone celebrations, where his customized balloon designs celebrate achievements in a unique and memorable way. Markus is an invaluable partner in business event planning, as his balloon artistry enhances major event planning and adds a special touch to business luncheon features. With Markus Kaufmann, company events become extraordinary experiences filled with wonder and joy.

How Dynamic Balloon Animal Modelling Captivate and Engage Corporate Audiences

Dynamic balloon animal modelling captivates and engages corporate audiences through its interactive and imaginative entertainment value. This unique form of artistic expression showcases creativity, allowing the audience to witness the transformation of simple balloons into intricate animal designs. When performed by an expert like Markus Kaufmann, it becomes a mesmerizing experience. Markus's artistic expertise shines through his performances at award ceremonies, office parties, and conference engagements. His ability to engage the audience using his balloon creations serves as a powerful tool for audience engagement. Whether it's team meetups or stakeholder engagement sessions, Markus's professionalism in art creates an atmosphere of excitement and belonging. This form of entertainment not only brings joy to corporate events but also leaves a lasting impression on the audience. Transitioning into the subsequent section, let's explore how Markus Kaufmann's specialized balloon art has gained global recognition at festivals through exclusive performances.

Specialized in Balloons and Recognized Globally: The Markus Kaufmann Experience at Festivals with Exclusive Performances.

Globally renowned for my expertise in balloon artistry, my experience as a performer at exclusive festivals has solidified my specialization in balloons. I have had the privilege of showcasing my unique creations and captivating audiences with my talent at various festivals around the world. From balloon animals to balloon hats, my artistic skills with balloons have gained recognition on a global scale. The Markus Kaufmann Experience at Festivals with Exclusive Performances is truly one-of-a-kind. Here is a glimpse into some of the exclusive performances I have delivered at festivals: | Festival | Performance | Audience Response || ——– | ———– | —————– || BalloonFest | Creating life-sized balloon sculptures | Amazement and wonder || FunFair | Interactive balloon workshops for children | Joy and excitement || Carnival Extravaganza | Balloon fashion show | Awe and admiration || Music Festival | Balloon installations and decorations | Enchantment and delight | My expertise in balloons and my ability to captivate audiences at festivals have made me a sought-after balloon artist for company events. With my unique balloon creations and global recognition, I bring a touch of magic and joy to any occasion.

Balloon Artistry's Unrivaled WOW Factor and Edge over Traditional Event Attractions

What sets Balloon Artistry apart from traditional event attractions? Balloon Artistry offers an unrivaled wow factor and has an edge over traditional event attractions. Here are four reasons why:

Creativity: Balloon artists like Markus Kaufmann use their expertise to create intricate balloon animals and hats, adding a touch of magic to any event. The level of creativity involved in balloon artistry is unmatched, making it a unique and captivating attraction.
Interactivity: Unlike traditional event attractions, balloon artistry creates a fun and interactive atmosphere. Guests can watch the balloon artist in action and even request personalized balloon creations. This level of engagement adds an element of surprise and excitement to the event.
Versatility: Balloon artistry is suitable for all ages, making it a versatile entertainment option. Both children and adults can enjoy the joy and amazement brought by balloon creations. This inclusivity adds to the sense of belonging and enjoyment at company events.
Rare and impressive: The skill and talent required for balloon artistry make it a rare and impressive form of entertainment. The ability to transform simple balloons into intricate designs showcases the artist's expertise and adds an extra layer of admiration from the audience.


From the Streets to Festivals: Markus Kaufmann, the Artist with a Rare Blend of Entertaining Skills and Specialized Balloon Artistry.

Transitioning from the streets to festivals, I've honed my entertaining skills and specialized balloon artistry, making me a rare artist with a unique blend of talents. My artistic reputation has grown as I showcase my skills at various festivals, captivating audiences with my performances and intricate balloon sculptures. Festival planners seek me out for exclusive artist bookings, recognizing the allure I bring to their large-scale events. My mainstage performances have become sought-after festival attractions, attracting crowds eager to witness my artistic performance. With my expertise in specialized balloon artistry, I bring a new level of creativity and excitement to the entertainment industry. As a balloon artist, I've found my niche in festival planning, offering a one-of-a-kind experience that leaves a lasting impression on attendees.

Balloon Hats and Animals as Emotional Catalysts: How Markus Kaufmann Evokes Strong Reactions

As an artist specializing in balloon hats and animals, I'm able to evoke strong reactions in people by using these creations as emotional catalysts. The combination of my balloon artistry and animal handling skills allows me to create unique and rare experiences that elicit powerful emotions. Here's how I do it:

Colorful and whimsical balloon hats: I create hats in various shapes and sizes, using vibrant colors to catch people's attention and spark joy.
Lifelike balloon animals: From dogs to elephants, I craft balloon animals that look incredibly realistic, igniting feelings of surprise and wonder.
Joyful and unexpected encounters: When people see my balloon hats and animals, they're often filled with happiness and delight, as it brings a sense of childlike wonder.
Creating connections: My creations act as a bridge, bringing people together and fostering a sense of belonging through shared experiences of joy and amusement. Through my work, I aim to touch people's hearts and create lasting memories by using balloon hats and animals as emotional catalysts.


The most certainly booked events – different events you can book Markus Kaufmann as balloon entertainer – a list of different company events and different festivals

I entertain at a wide range of company events and festivals as a balloon artist. My services are popular for various occasions that require entertainment and creativity. Some of the most frequently booked events include stakeholder gatherings featuring balloon themes, client meetings with balloon installations, and artistic consultancy for brand promotion. I also provide entertainment for corporate dinners, where I create customized balloon sculptures that add a touch of whimsy to the event. Additionally, I'm often hired for corporate event planning, where I assist in designing unique experiences for attendees. My expertise in event customization allows me to tailor my performances to suit the specific needs and themes of each event. Whether it's a corporate gathering or a community festival, I'm dedicated to bringing joy and excitement to every occasion.

Book Markus Kaufmann the balloon artist for your next event

For your next event, consider booking me, Markus Kaufmann, the talented balloon artist mentioned in the previous section. With my artistic credentials and artistic versatility, I can provide entertainment that will elevate your event to the next level. Here are some reasons why you should book me for your next event:

I can create unique and eye-catching balloon sculptures that will impress your guests.- My interactive sessions will engage both children and adults, creating a fun and memorable experience.- Whether it's company BBQs, client receptions, or business fairs, I can adapt my skills to suit any occasion.- From training session breaks to product launch sessions, I can provide entertainment that fits seamlessly into your event schedule. Don't miss the opportunity to have a talented balloon artist like me at your next event. Check out my portfolio to see examples of my work and contact me today to book your date.


Frequently Asked Questions

How Long Has Markus Kaufmann Been Working as a Balloon Artist?

I've been working as a balloon artist for quite some time now. Markus Kaufmann, the talented artist, has been perfecting his craft for several years, making company events even more enjoyable with his skills.

What Types of Events Does Markus Kaufmann Specialize In?

I specialize in creating balloon art for various types of events. From corporate functions to private parties, I can bring a touch of joy and creativity to any occasion.

Can Markus Kaufmann Create Custom Balloon Designs for Specific Themes or Company Logos?

Yes, I can create custom balloon designs for specific themes or company logos. It brings me joy to transform ordinary balloons into unique creations that perfectly represent your event or brand.

Does Markus Kaufmann Offer Any Interactive Activities or Workshops for Event Attendees?

Yes, I offer interactive activities and workshops for event attendees. From balloon twisting demonstrations to hands-on balloon sculpting workshops, I ensure a fun and engaging experience for all participants.

Are There Any Notable Clients or Companies That Markus Kaufmann Has Previously Worked With?

I've worked with a range of impressive clients, including Fortune 500 companies and well-known brands. It's an honor to bring joy and creativity to their events with my balloon artistry.

Conclusion

Markus Kaufmann's balloon artistry brings a breath of fresh air to company events and festivals worldwide. With his dynamic animal modeling and captivating balloon hats, he never fails to engage and entertain audiences. Markus's unique blend of entertaining skills and specialized balloon artistry evokes strong emotional reactions, making him a must-have for any event. Don't miss out on the opportunity to book Markus Kaufmann, the balloon artist who'll take your event to new heights. It's an experience you won't want to miss!